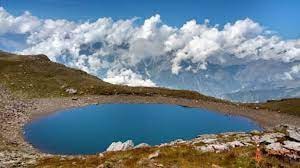 The Bhrigu Lake walk is regarded as one of the best short treks in Himachal. It is a three-day trek from Manali that takes you through some spectacular grasslands and stunning scenery. If you are planning a trip to Manali and want to incorporate some hiking into your itinerary, the walk to Bhrigu Lake is an excellent choice. There are various travel firms that organize this trek that can be found both online and in Manali. You can, however, try it on your own if you so desire. Except for the winter season, the trail is well defined and easy to travel. During the trekking season, you will also encounter a plethora of other activities.
The trek's difficulty rating is a beginner to intermediate, and it may be performed even by those with little to no prior trekking experience. All you need is a reasonable degree of fitness. In this article, we will look at how you can arrange your trip.
How to reach Bhrigu Lake
To go to Bhrigu Lake, you must first travel to Manali. This is the most straightforward part of the voyage. Manali is one of our country's most popular hill destinations, and it is accessible year-round via a motorable route. If you are driving or riding a motorcycle, the route will be as follows, beginning in Delhi. It will take you roughly 14 hours to get there from Delhi. The trip time from Chandigarh will be between 8 and 10 hours. There are regular buses to Manali from every major city in the vicinity. You can either take a state-run bus like the HRTC or a private tour operator.
Lake Trek Itinerary
Because the journey is easily possible in three days, the majority of trekkers will attempt to complete it in three days. However, if you have an extra day and want to spend more time in the beautiful green meadows, you can choose the 4-day itinerary as well. Any time spent traveling to Manali and then returning will be added to these days. For example, if you are traveling from Delhi, the trek will take 5 days. If you traveled by car, I would suppose you arrived in Manali the day before and are now ready to move on to the Rola Kholi camping. In any case, your first stop will be Gulaba, a little village around 22 kilometers from Manali. If you purchased your trip through a tour organization, they will organize transportation and will pick you up from either the hotel or the bus station. If you are going alone, there is an hourly bus that runs from Manali to Gulaba. If a bus is not available, you can take a shared taxi. The journey starts near the Gulaba checkpoint. You'll trek through dense forest for almost an hour and a half before arriving in Jonker Thach.
My recommendation is that you continue on to Rola Kholi, a meadow about 5 kilometres ahead of Jonker Thach. Except for a sharp incline soon after Jonker Thach, the hike is not challenging. The remainder of the hike takes you through a beautiful grazing area used by the local shepherd. Throughout the trek, you will have a clear and breathtaking view of the Hanuman Tibba and Seven Sisters peaks. It will take you roughly 4-5 hours to walk 7 kilometers from the Gulaba checkpoint to Rola Kholi. You'll spend the night here along a brook named Chor Nallah. At Rola Kholi, the elevation will rise from 2,050 metres (6,726 feet) to 3,830 metres (12,560 feet).
Best Time for Bhrigu Lake Trek
Bhrigu Lake is only open for 4-5 months of the year. Due to its high elevation, the lake and the walk are buried under snow until April and cannot be attempted. The path opens in May, and even then, there will be a lot of snow on the trail. In October, after four months of summer and monsoon, it begins to snow again. As a result, the only season you can visit Bhrigu Lake is from June to September. It is possible to attempt it in May and October as well, but it is entirely dependent on the weather. From November to April, the trail is blocked. You can hire a personal guide and go on a winter trek, but you'll just be walking through the snowy hills. There will be no lake to sight, but there will be white snow all around. Personally, I would suggest going in September. All of the rainfall would have brought the entire region's flora to life. The grasslands, natural springs, meadows, and waterfalls would be a sight to behold. The mountains would appear to have been washed clean and covered with a green carpet.