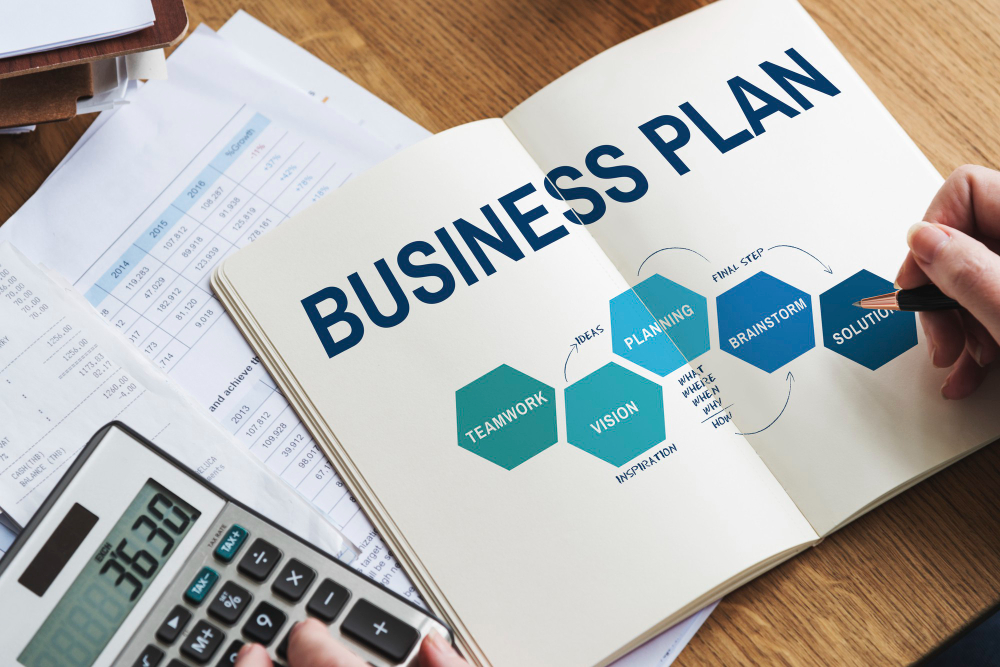 "What Is a Marketing Strategy in A Business Plan?" is a common question asked by entrepreneurs who want to create a successful and sustainable business. A marketing strategy must be part of a business plan that companies create to lay out their path to success. It involves choosing a target market, understanding the competition, and figuring out the best way to talk to customers about the products or services on offer. In this article, we will talk about what a marketing strategy is and why it's so important to the success of any business.

What is a Business Plan?
A business plan is a written document that lays out a company's goals, plans, and activities to reach those goals. It is a plan for how a business will run, grow, and do well over a certain amount of time, usually three to five years. The following are typical parts of a business plan:
Executive summary: A summary of the most important parts of the business plan, such as the organization's mission, the goods or services it will offer, its target market, and how much money it expects to make.
Company description: The company description goes into detail about the company's history, who owns it, how it is set up legally, and where it is located.
Market analysis: A description of the size of the market, growth trends, and competition in the company's industry.
Products or services: A detailed description of the business's products or services, including any special features, benefits, or competitive advantages.
Funding: The advantages of crowdfunding for a business plan are numerous, as it allows for a wider pool of potential investors, increased visibility and marketing opportunities, and a more streamlined funding process.
Marketing and sales strategy: A marketing and sales strategy is a plan for promoting and selling a company's goods or services. It includes strategies for pricing, distribution, and marketing.
Financial projections: A detailed plan for the business's income, expenses, and profits over the next three to five years, including cash flow and balance.
Management team: A list of the team member's skills, experience, and roles in the organization.
Logistics: A detailed plan for how the business will run and get its products and services to customers, including plans for staffing, production, and logistics.
A business plan is an important tool for getting investors, getting loans, and guiding a company's growth and success. It acts as a standard for tracking progress and making changes as needed. It also shows how the organization will reach its goals in a clear and complete way. When developing a business plan, it's crucial to take into account age-appropriate business ideas for teens, to ensure that they can effectively carry out their vision.
What is a Marketing Strategy?
A marketing strategy is a plan that shows how a company will reach out to its target market and convince them to buy its goods or services. It is a complete plan that explains how a company will promote and sell its products or services. The company's marketing strategy will help it figure out the best ways to reach customers, build a clear brand identity, and give itself a long-term competitive edge.
Key Elements of a Successful Marketing Strategy
To make a successful marketing plan that will help them stand out from their competitors and connect with their target audience, businesses need to think about a number of important factors. Some of the most important parts of a good marketing plan are as follows:
Knowing the target market: To make a good marketing plan, businesses must first understand the demographics, psychographics, and behaviours of their target market. With this information, businesses can change the way they talk to and market to potential customers.
Unique selling proposition (USP): A unique selling proposition (USP) is a sentence that explains why a certain product or service is better than others. Having a strong USP can help businesses stand out in a crowded market and set themselves apart.
Communication channels: Businesses must use the best ways to talk to their customers in order to reach them. Things like social networking, email marketing, advertisements, and content marketing demonstrate this.
Pricing strategy: Price is an important part of getting new customers and keeping old ones. Companies have to figure out the best price for their product or service by looking at a number of things.
Promotion strategy: A promotion strategy is how a company gets the word out about its products or services to the people it wants to reach. This is done through things like advertising, public relations, direct marketing, and sales promotions, among other things.
Evaluating success: Businesses must use key performance indicators (KPIs) like website traffic, engagement on social media, and sales to measure how well their marketing strategy is working.
Taking five important factors into account, businesses can build a marketing strategy that reaches and resonates with their target audience, sets them apart from their competitors, and drives business growth.
Steps to Developing a Marketing Strategy in a Business Plan
A marketing plan needs to be put together in a methodical way to be effective. Here are the steps that a business can take to come up with a marketing plan:
Conduct market research: Market research helps businesses figure out what their target customers need, what they like, and how they act. It also helps find market trends and opportunities that the company can use to make money.
Define the target market: Market research should help businesses figure out who they want to sell to. There are demographic, regional, and psychological parts. Firms can better tailor their messages and products to potential customers if they know who they are trying to reach.
Develop a messaging strategy: Once a business knows who its target audience is, it can make a message plan that speaks directly to that group. Creating a unique value proposition that shows why the product or service is better than the competition is part of this.
Determine the marketing mix: The marketing mix is how a company decides which product to sell, how much to charge for it, how to promote it, and where to advertise it. Businesses should choose the best combination based on who they want to reach and how they want to get their message across. Set up aims and goals: Businesses should set clear, measurable, attainable, relevant, and time-bound goals and objectives (SMART).
Create an implementation plan: A plan for putting the marketing strategy into action spells out the steps that must be taken to reach the goals and aims of the strategy. This includes figuring out the budget, figuring out the best way to communicate, and making a plan for when to put the plan into action.
Businesses need to evaluate and change their marketing plan often to make sure it works. This can be done by looking at market research often, researching the competition, keeping an eye on customer feedback, and figuring out how well communication channels work. Businesses can make sure they stay on top of market trends, meet the needs of their target audience, and reach their business goals by regularly evaluating and changing their marketing plan.
Inbound marketing in a business plan's marketing strategy
Inbound marketing is a very important part of a business plan's marketing strategy. It is the process of attracting, engaging, and satisfying potential customers by giving them quality information and experiences that meet their needs and interests. The goal of inbound marketing is to build trust with potential customers over time by getting to know them. This is done by making high-quality content that teaches, entertains, or inspires people, and then spreading it through many different channels, such as blogs, social media, email, and search engines. Some of the most important parts of an inbound marketing plan are:
Content creation: Creating high-quality content that is both informative and entertaining and meets the needs and interests of the target audience.
SEO: Search engine optimization (SEO) is the process of making a website's content better for search engines so that it is more visible and gets more traffic from search engines.
Social Media Marketing: By interacting with potential customers on social media networks, you can build relationships and promote content.
Email Marketing: Build your email list and send targeted messages to your subscribers to give them something of value and keep them interested.
Analytics: Analytics and measurement involve collecting and analysing data to figure out how well marketing campaigns work and to make decisions based on the data.
Inbound marketing is a low-cost and effective way to find potential customers and turn them into loyal fans. Businesses can build a strong brand reputation, increase engagement, and boost sales and income by giving their target audience relevant content and experiences that meet their needs and meet their interests.
Why is a Marketing Strategy Essential in a Business Plan?
A marketing strategy is a key part of a business plan because it tells the business what to do. It helps companies stay focused on their goals and objectives, and it gives them a way to make decisions. Here are a few reasons why a marketing plan is an important part of a business plan:
Helps to Identify the Target Market: The target market is one of the most important things a marketing plan does. It helps the company figure out what its potential customers want and like so it can make sure its products or services meet those needs.
Defines the Marketing Mix: The marketing mix is how a company promotes its products or services. It is made up of the product, the price, the promotion, and the place. It helps the company figure out the best way to reach customers in terms of pricing, advertising, and distribution channels.
Provides a Competitive Advantage: A well-thought-out marketing plan can give a company an edge over the competition by helping it come up with unique selling points and strategies to set itself apart from the competition. This can help bring in and keep customers, and it can also help the business make more money overall.
Ensures Consistency in Messaging: A marketing strategy makes sure that all of the company's messages are the same and fit with its overall goals and objectives. This can help build a strong brand identity and make the brand more well-known and easier to remember.
Conclusion
Learning how to write a business plan requires proper planning. To sum up, a marketing strategy is an important part of a business plan because it shows businesses how to get to their goals and objectives. It helps find the target market, defines the marketing mix, gives a competitive edge, and makes sure that the message stays the same. A well-planned marketing strategy can help a business get and keep customers, make more money, and be successful in the long run.
Author Bio: Indradeep Datta is an experienced SEO specialist and digital marketer based in London. With an MSc in Digital Marketing, he has extensive knowledge in creating successful online marketing strategies for businesses of all sizes. In addition to being an SEO expert, he is also the author of the UK-based lifestyle website Customer Lifestyle. His website provides valuable insights into various aspects of the UK lifestyle, including food, travel, and entertainment. With his passion for digital, he is committed to helping businesses achieve their online goals and connecting people with the best UK lifestyle.