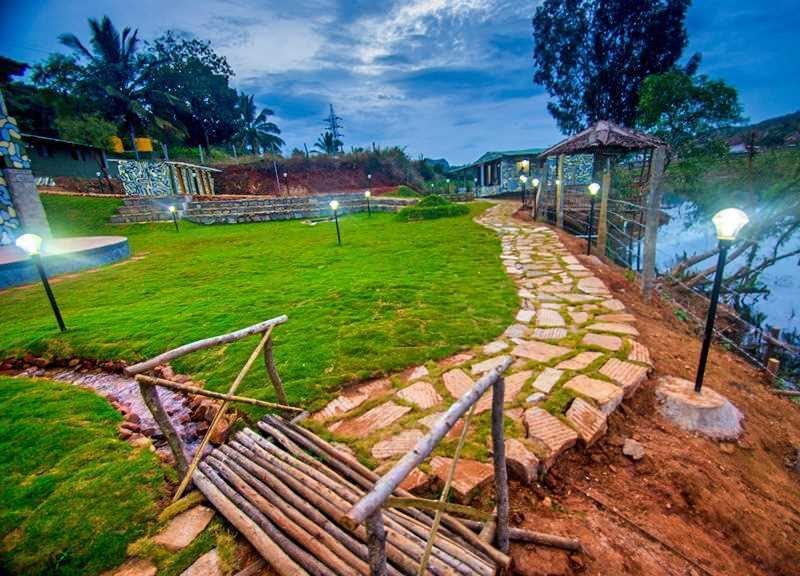 Adventure and Camping is a must experience that everyone wants to have. And in Bangalore there are some of the interesting and adventurous camping destinations that will meet your expectations. Do check out the places below in and around Bangalore for outdoor camping.
Bheemeshwari Nature and Adventure Camping
It is 90 kilometers away from Bangalore. Bheemeshwari is located on the banks of the Kaveri River, Kanakpura. In order to reach this area, you will have to pass through Basavanna and Halgur Forest Range. While passing through this you may come across some beautiful deers, Elephants etc. The camp has the facility of cottages with both AC and Non-AC. The speciality of this area is that the camps are pitched exactly in front of the river. And the adventure activities would be organized at around 3pm in the afternoon. Though it is an artificially made camp, the stay here makes it the experience of real forest with flowing river in front.
Area 83 Resort and Adventure
It is just 15 kilometers away from Bangalore, so you can even opt to visit on weekdays if you want. It is a luxurious resort which offers both camping and adventurous experiences for the tourists. It is also known for an army themed resort, hence you would see some of the challenging activities in the resort. The flooring here is completely made of wood. The camping is based on a room with queen sized beds. They offer some of the adventurous activities like Sky Swing, Kayaking, Tree Climbing. In sky swing they take you to fly upto 80 feet height. Tree Climbing makes you trek upwards for almost upto 30 feet in height. Apart from these, they take you through some of the interesting water activities also in an army-themed resort.
Arkavathi river backwater Camping
It is 70 kilometers away from Bangalore. If you are interested in making a random camping trip without any plan then Arkavathi camping is the best option. It is not a paid camping site. It is absolutely natural and camping there is your sole responsibility. This makes camping more adventurous and interesting. You can plan to set up a caravan car along with a camp if you are coming with a group. A Caravan would help to carry all the necessities required in the camping site. By night you can try and pitch a camp on the bank of the Arkavathi river. You can also do fishing here with your own effort. Since it is a personal camping trip, the security of you is your responsibility. So this absolutely becomes a complete adventurous camping experience.
Bannerghatta Forest Camping
It is 30 kilometers away from Electronic City. It is near Sugee Resort. The camping here is on a personal basis and not a paid one. The camping site here is very close to nature. For this camping to be comfortable, you can arrange a mini caravan so that you can bring everything needed for the camping. Since it is not a paid camp, you must be careful about the site, so this makes it more adventurous. It is a place with huge rocks and boulders. Before it gets dark, you can start arranging everything for your dinner and a campfire. It is an amazing place for an adventurous night camp.
Mango Forest Camping
It is around 60 kilometers away from Bangalore. It is like any other resort that offers you plenty of choices to make your weekend worthwhile. They have a vast area to camp for a day. They also have a separate lake nearby where you can kayak and do other water activities. In the night they provide a campfire that will bring you the college memories. On the next day, they take you to trekking along with other options like ziplines and rappelling. Rappelling along with trek is an awesome combination for adventure. So after all these exhaustive activities, the camp you pitched will provide you with a real sense of rest. So do visit Mango Forest.
Devarayanadurga camping
It is about 75 kilometers away from Bangalore and 15 kilometers away from Tumkur district. There is Nomads Camp nearby where you can stay and pitch a camp. Other than this there is also enough space for you to have a personal camp on the site. You can also have a great sunset view from Hi-Tea there. In winters it will be covered with fog without any visibility. You can also take a hike from the camping site to reach Devarayanadurga. Though there is no clear path to hike, a guide might come to rescue you. Devarayanadurga is a very spacious area and offers great comfort to the tourists visiting this place.