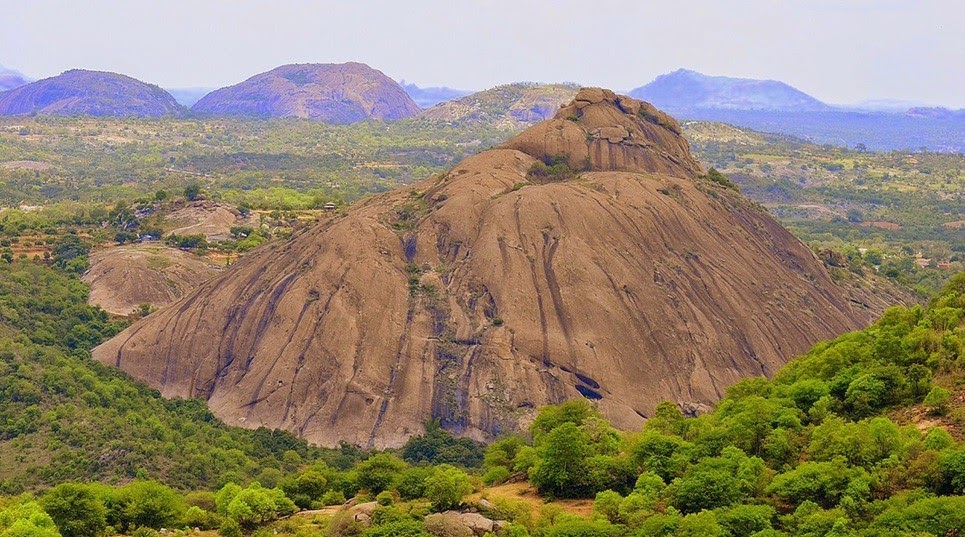 The Silk Capital of India, Ramanagara is also well known for its natural scenic beauty and trekking points. The area of Ramanagara and its adjoining areas are embedded in trees, forests and several hillocks which makes it favourable for camping grounds. This little town district is 47 kms from Bengaluru which makes this a fun road trip to adventure!
The district has campgrounds spread all over its region including exciting outdoor activities.
For trekkers exploring the trek trails near Bengaluru, Savandurga hills definitely makes the list. Savandurga is a one day trip which may include Manchanabele Falls, Bidarakatte trek, and hidden Magadi plot. The Savandurga forest area is also a nature preserve, hence making it prone to camping activities nearby. Among which Vagabond Camp is ideal to spend the night. The campground is located at the foothills and has bamboo tents. There are individual tents as well as dorm tents. The accommodation provided here is one of a kind as you will not be sleeping in the small conventional tents. The area is well lit and provides an ample space for bonfire nights, barbecue and games. The tents are basic and have necessary amenities. The peak season to visit is post monsoon so carry your mosquito repellent and an extra jacket with you. The camp mostly provides everything hence one need not hassle.
The nature around you will compel you to stay outdoors in its embrace and camps are the best way to do it. Next off is the Beyond Urban campsite. This is a farm campsite where your neighbours will be trees, flowers and animals. It is located in Channapatna taluk around 80 km from Bengaluru. If Bengaluru city life is getting to you, this camp is the best escape for you. The camp offers small and compact accommodation with activities like nature walk, zip line, rope line, and many more. The lake on the premises is a serene sight to behold in cold early mornings. It is just a 30 mins ride away from Ramanagara.
Campsites in Kanakapura are where you will experience actual camping. No wooden establishments or bamboo tents. Either you can choose to bring your own tents and camping equipment or occasionally they provide the guests with tents. Camper's Creek is a peaceful campground set beside a creek. In this campground, you are free to trek and fish.. Since this is a vast open area of grassland, you must carry insect spray, mosquito repellent, sleeping bag, food and sufficient water. Make sure the disposal of the waste is done in a proper manner without harming the environment. You and your friends can have bonfire nights sharing stories, jam sessions or play games. During the day, you can hike to the nearby hills, explore caves, enjoy squad bikes etc.
When it comes to Q Mango Forest Camp, it lies on the commercial side of the camping experience. This is an adventure camp providing a scenic camping experience and innumerable outdoor activities. The campground consists of an outdoor swimming pool and a lake to swim. The area is so vast, you will be busy hopping onto the next activity till your head hits the pillow. The tent stays are spacious and there is a common bathroom with multiple washbasins. Explore the granite hills carved meticulously by nature, go kayaking in the pristine lake or read a book. This place is perfect for large group excursions or team outings. After a tiring yet thrilling day of exploring nature, sit back and relax near the bonfire swaying to your favourite tunes.
Wrapping up with Campfire Circle Adventure Camp, where you get to see the best of nature and your friends. The Campfire Camp lets you enjoy zip line, rappelling, kayaking and shake-a-leg at rain dances. The tent's occupancy is 2-3 people per tent. You can opt for cave exploration or paintball, the sole purpose of all campgrounds is to bring you closer to nature. It is vital for people to get out of their concrete homes and relive in nature.
The above mentioned campgrounds are just an essence of real wild camping experience. If you opt to camp in national parks and forests, the experience will be astronomical. These camps are perfect for families, friends and children where it won't matter if one has a prior experience or not. Camping outdoors helps people adapt and adjust in the given limited resources. Yet it doesn't take away your ability to enjoy nature and its beauty. Come, let's embrace nature!