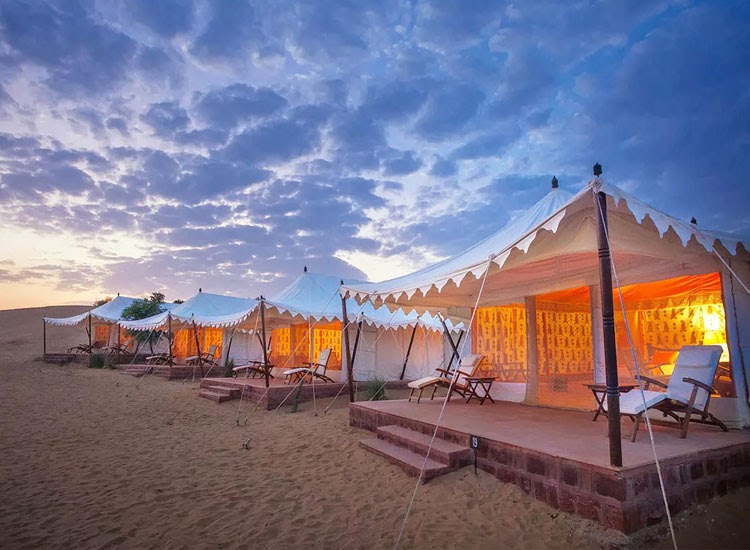 Jaisalmer, the former capital of the Rajputana Empire, located in Rajasthan on the western tip of India. In addition, the state is home to most of India's most prominent tourist spots, including Jaipur, Jodhpur, Udaipur, and Jaisalmer. The entire region features some incredibly captivating deserts, forts, and palaces that will make your Rajasthan tour highly intriguing.Another fascinating feature of this camp is that it is developed in the traditional ethnic style of the locals. As a result, you may enjoy the beauty and warmth of this camp among the hustle and activity of this desert town. Jaisalmer is a historical city in the centre of the Thar Desert, bordered on three sides by desert sand dunes. It is a popular tourist destination and a wonderful spot to experience the traditional Rajasthani way of life. I'm listing a few popular places to enjoy camping at deserts.
Joggan Jaisalmer Camp
You'll get the complete desert adventure if you stay at Joggan Jaisalmer Camp. Set among some of the beautiful dunes of the Thar Desert, it offers the same amenities as any of Jaisalmer's luxury hotels. You'll find everything here, from hot showers to swimming pools to a delectable selection of local cuisines and traditional Rajasthani specialties, as well as a spa centre and Ayurvedic centre. Arrive in Jaisalmer Camp in the comfort of your own truck, where you will be greeted with traditional Rajasthani hospitality. Trekking, sand boarding, camel safaris, and quad biking are just a few of the adventure sports available. A classic desert barbecue will add flavour to your journey.
Travel towards Jaisalmer and make your way to the campground at Sam Sand Dunes before dark. After receiving a traditional Tikka Dastori welcome, energize with the welcome drinks.Prepare to discover the desert habitat on a Camel Desert Safari or a Jeep Safari, and enjoy the sunset while riding a camel.Learn new movements from Rajasthani folk dancers and listen to soothing Rajasthani folk music.At the camp, you may enjoy the DJ Night and wonderful Rajasthani cuisine.Sleep under the stars while watching the sand turn silver in the moonlight.
Chokhi Dhani:
Chokhi Dhani is an excellent choice if you wish to immerse yourself in the authentic Rajputana way of life. This camp has two lodging options: luxury camp and regular camp. The nighttime events, such as folk dance and cultural shows, add to the excitement of this location. Choki Dhani is an excellent location for desert camping. Those who have done so consider it to be one of the best campgrounds in Jaisalmer. The entire arrangement has a Rajputana feel to it, and you can genuinely experience how the natives live. When organising your trip, make sure to research their many sorts of camps so you know which one is perfect for you.
Camp Joggan Jaisalmer.
This resort is made up of recreated village huts with cow dung plasters and decorative wall art. The Indo-Saracenic style is heavily influenced by the architecture. This location is a manifestation of traditional Rajasthani customs and is managed by Mr Gul Vaswani and Director Mr Subhash Vaswani. Mini village fairs draw a lot of tourist interest with their colourful art and clothing.
The Mama's Resort and Camp:
The Mama's Resort & Camp is yet another fantastic camp stay in Jaisalmer that promises to provide guests with a memorable experience! It is situated within the Desert National Park, which was established to protect the Thar Desert ecology.In the midst of the amazing scenery of the sand dunes, this camp offers the finest tents, desert safaris, cultural entertainment, and a broad selection of culinary options. The luxury tents feature adjacent sit-out verandas that are lit with lanterns and fire-torches in the evenings, creating a comfortable atmosphere.
Safari Nights Resort:
Do you want to live the nomadic desert life in good company? It's right here at Safari Nights Resort.The Safari Nights Resort is a popular choice for travellers looking for tailored desert living experiences.The stay arrangements at this campsite are highly personalised for each traveller based on his or her preferences. So, whether you're searching for gorgeous vistas or a touch of history during your stay, this campground has you covered..
Damodra Desert Camp:
Traditional folk songs and dances allow you to immerse yourself in Rajasthan's rich culture. Get a flavour of Rajasthan by partaking in their traditional cuisine and camel rides, both of which are available here. You can enjoy card games, the resort has a hookah lounge where they may play board games and card games and have a good time. Use vouchers to reserve your stay at the Damodra Desert Camp. Visitors have generally appreciated the resort, and they all recommend it.
All you have to do now that you know about the greatest resorts where you can spend your time during your vacation in Jaisalmer is decide where you want to stay.